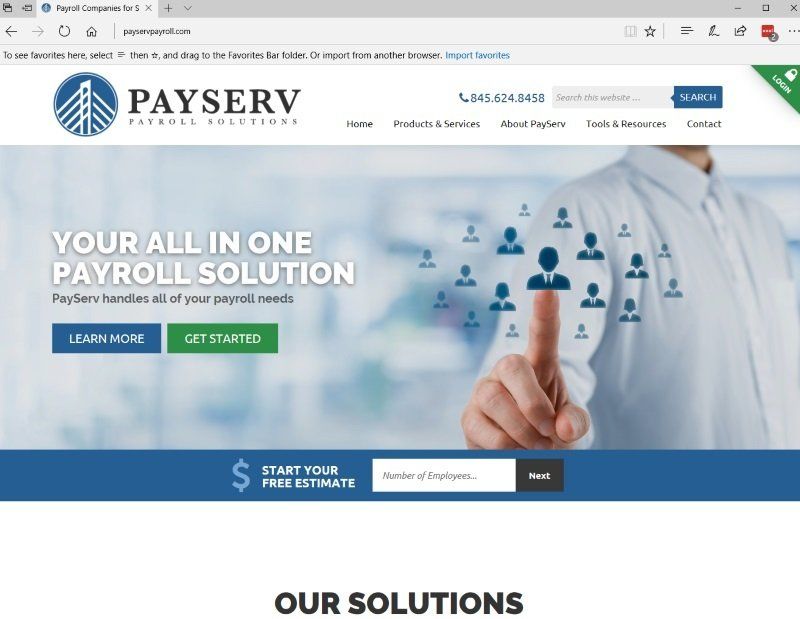 In today's business world it is often easy to forget the great work that goes into keeping our small businesses running. PayServ Payroll is one of those payroll companies that do a great job to keep small and medium businesses moving along behind the scenes.
About PayServ Payroll
PayServ is a Rockland County, NY based payroll company that specializes in intimate relationships with small businesses providing payroll and human capital solutions for businesses with as little as one employee to even a thousand employees.  At PayServ, you're not an account number, you're a person. They make a point of not just printing your paychecks, but knowing and anticipating your company's payroll and accounting needs. When you enlist their services, you get dedicated account representatives who go out of their way to get to know your company and its requirements, so they can better serve you. 
The Challenge
The Deluge Interactive Website Design and Creative team had to create a visually impressive but functional website to show off Payserv's impressive list of services and capabilities but also to attract new clients so SEO is a major focus of this project.
The Work
We built the website utilizing WordPress and a specialized custom theme that allows for robust SEO along with the ability to highlight important events and news about Payserv's business updates.
Our team here at Deluge Interactive, a full service New Jersey based website design firm handled everything in this project including the company's re-branding and graphic design, content development, custom programming and content management system.
We now look forward to handling the digital marketing efforts for the new site moving forward including: hosting, internet presence development, SEO, and on-going updates and maintenance.  If you want to grow your company then there is no better medium than the internet.
Please don't hesitate to reach out and ask help from the top digital marketing experts we have on staff.
We welcome the opportunity to serve you!